Zimbuddy is a business and skills resources community. It serves as an environment that promotes the exchanging of business ideas and resources to grow the Zimbabwean online business community. As Zimbuddy continues to grow, we regularly look at ways to introduce new methods of ensuring our marketing budget benefits our Zimbuddy members. Our most popular one is the Zimbuddy affiliate program.
Affiliate marketing on Zimbuddy is one of our most popular and lucrative opportunities among those looking for a side hustle to supplement their income. In this article we briefly address some of the most common questions.
What is Zimbuddy affiliate marketing?
Affiliate marketing with Zimbuddy is a relationship that entitles you to a payment each time someone signs up through your referral link. It is completely free for anyone to join. 
How do I earn money from Affiliate marketing?
When you sign up to Zimbuddy, you are automatically enrolled in the affiliate program. To access your affiliate profile, simply visit this link: https://zimbuddy.com/setting/affiliates This will take you to your affiliate dashboard where you will find your affiliate link and statistics. Remember, you only get paid for users who sign up using your affiliate link, this is the only way our system can identify your referrals.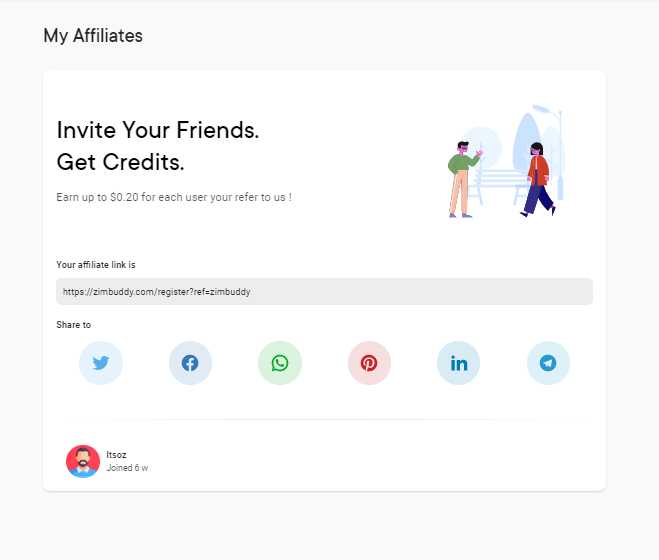 How do I market Zimbuddy?
It is important that you never forget to include your affiliate/referral link which you can find here: https://zimbuddy.com/setting/affiliates 
The following are messages that we often use along with a referral link:

a) I would like to invite you to join Zimbuddy.com It is a community where entrepreneurs network and promote their businesses

b) Join Zimbuddy.com to promote your business to other professionals in and outside Zimbabwe

c) Advertise your business on Zimbuddy.com. A networking website for Zimbabweans by Zimbabweans.
Do I need to pay anything?
Zimbuddy is free to join and free to use, unless you select some premium functions like targeted ads. In fact, the Zimbuddy system pays you for any content you post on the platform, whether it is a like, reaction, comment, article or a product for sale . Zimbuddy rewards you with points which you can convert to USD to use on the platform to pay for premium functions or other other products and services from other users.

How do I get paid? 
We pay via PayPal, Econet/Netone airtime and Bitcoin. If you do not have a Bitcoin wallet, you may read about cryptocurrency and open a wallet on our recommended exchanges, click here to view the PDF.
How to apply
Message us through our contact form, which you will find by clicking here, then:

1. Tell us how you intend to spread the word about Zimbuddy.
2. Which sector(s) you intend to focus on.
Please note: Spaming is strictly prohibited.